Meet Allytics
Your full-service marketing firm


Exec team
Our team brings the experience, "know-how" and "go-do" that makes your team successful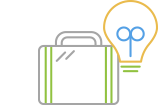 Careers
Reach out to us today and see how we can work together
About
At Allytics, we help bring your business to the next level by telling your story in ways that resonate with your target customers. We aim to create sustainable, lasting relationships with our clients and integrate seamlessly into their larger marketing efforts. We do this by finding and growing the marketing professionals that leading companies need, and by utilizing a team approach to deliver the right skills.
---
Purpose
Our purpose is to deliver the quality experience that will make us your default marketing solution. For some organizations that means we build an animated video to tell their story to the world. For other organizations that means we act as their Central Marketing Organization (CMO).
By providing authentic value for our clients, and examining new ways to ensure their story is compelling and heard, we are able to grow long term partnerships with our clients and grow in depth of understanding. Our ideal engagement initiates with involvement in the strategic process, and rolls out to implementation.
We love working with innovative companies who are challenging the status quo, but we also can work with companies facing stiff competition to support their drive towards separating their offerings from competitors.